Here is a list of the characters encountered in OPUS.
Emeth

Emeth is a robot that has the responsibility of locating Earth. He has a childlike personality and can be easily upset. His full name is General Purpose EVA Bot OP1414.
Lisa (AI)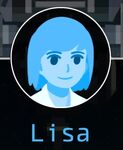 Lisa is the ships AI that assists Emeth in the search for Earth. She was created in the likeness of Dr. Lisa and shares her personality. Certain planets can be homed in on with her Lisa Algorithm.
Doctor Lisa

Doctor Lisa Adams is one of two scientists on the spaceship whose job is to locate Earth.
Makoto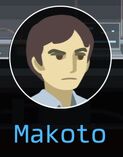 Makoto is the other scientist on board the spaceship. He is very skeptical about locating Earth. Although he and Dr. Lisa have their differences, he does support her when she becomes ill.
OPUS
OPUS is the onboard computer.
Space Dog

A dog that you can purchase for real money. He has a helmet on.
Space Cat

A cat you can purchase for real money. He has a strange box on his back.